Walk into fall with this beautiful card.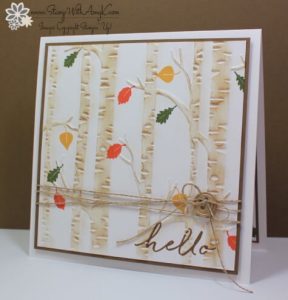 Simple stamping techniques and soft fall colors capture a walk in the woods as the leaves start changing colors.
A list of all supplies used, and how to make this card are clearly explained.
Go here and find the directions and see the rest of the photos for this card.
This is an amazing card to make for fall.
Happy Stamping!
Team Scrapbooking Daily
Photo and resources: Stamp with AmyK
P.S. You can use the techniques taught here with supplies you have at home, but it's always fun to pick up a few more things 🙂