Easy layout for baby pages.
Isn't she the sweetest thing? Scrapping baby pictures just brings an automatic smile to your face. Make sure to go back and put all those adorable pic's together, even if their 25 years old. It's fun to go back and add new ones to the mix.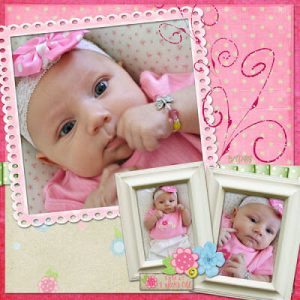 Get going and make that second scrap book for them. Pull out all those pictures you didn't use and make a one for them to take when they leave "the nest". The original ones are staying with me…sorry.
Here is the list of supplies used to make this page:
Credits:
Everything from Desperately Seeking Spring by Connie Prince/DigiDiva Design
except:
White frames from My BFF, Rose by Pretty Pixels
Pink scalloped frame from Pajamatime by Penny Springmann
Template 227 by Andrea Gold
Pink glitter on swirl from Holiday Partini Glitter Sheets by Snowflake Beach Designs
Font: Digs My Hart
As always, dig around in your own stash of stuff first. Then say, "I don't have everything I need to capture our dear children's memories. A trip to the craft store is in order". And then go, go ,go.
Go here to see the other photos and directions. Click here!
Post your own cutey pies pages here. We want to gush and say….Oh, how cute!
Happy scrapping!
Team Scrapbooking Daily
Photo source:Michelles CT Creations
Resource: Â Michelles CT Creations