Wiggly and bouncy card made easy with punches.
Cute Cat Card…. now say that fast three times in a row!
This absolutely adorable kitty card is made from….punches. Yes! That means it will turn out like the photo 🙂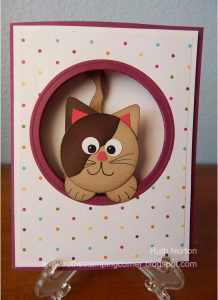 Grab up your scrap paper and make this cat any color you want. What about white with a black face or black with a white face, or tiger striped or white with an orange face ( like our George who is a cutie by the way).
So many possibilites with this one.
Here are some of the directions to get you started:
The card I was inspired by uses a stamped image, I thought, I COULD carve one, but no that's not going to happen, I'll just do it in punches!  So the little kitty, adorable as he is, peeks through the window on the front of the card, his bottom hangs on the inside.  His body and paws are just circle punches.  His ears are the triangle punch, I just rounded the tip.  His tail, inside of the ears and nose are just cut with my snips.
And they used little "plastic springs" to get the wobble going. By Hampton Art you can go here to see them: Click here!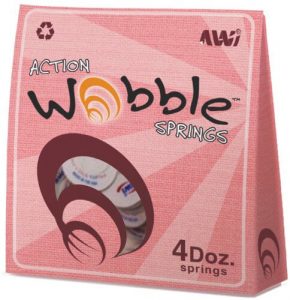 You can just see the plastic springs in this side view of the card.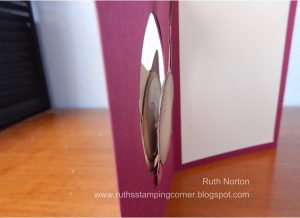 Pretty neat. You could use these for all kinds of things. Will need to get some and play with them.
Happy wobbling!
Team Scrapbooking Daily
Photo source: Ruth's Stamping Corner
Resource: Ruth's Stamping Corner