Make your own framed pegboard for your craft room.
Peg boards have a tendency to be boring and not very pretty. You can paint them to make it look nicer, but how do you attach it to the wall and still be able to use it?
Answer: DIY one!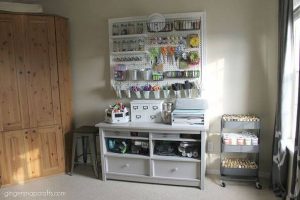 Here is a complete tutorial on how to build your own pegboard with frame that not only is beautiful, but very practical as well.
Under construction: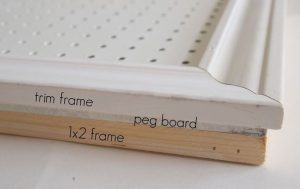 Just make sure that your pegboard is securely attatched to the wall. Don't need to hear any crash, boom, or bang in the middle of the night. As they say….
…Then we hung this big boy on the wall! You'll need heavy duty screws, a stud finder & anchors to hang this up. It will get pretty heavy when it's fully loaded with craft supplies….
Go here and grab the instructions on how to make this pegboard for your craft room. Click here!
Happy organizing!
Team Scrapbooking Daily
Resource: Hometalk
Photo source: Hometalk