Easy to do embellishment for your pages.
Odds and ends are everywhere in our scrap rooms. It seems we never throw anything away. You just never know when you might need that perfect little scrap of something.
And embellishments? Don't get us started. There are so many to see and new ones coming out, that it's hard to resist just getting one more to add to the growing collection.
What if we DIY a few embellishments for a change?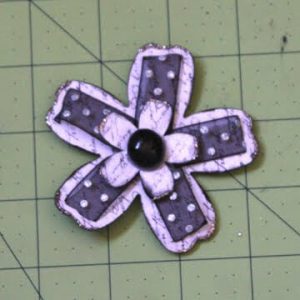 Well, here is one that is very pretty and uses things you probably have already.
Here's a few directions to get you started:
I used a strip of mesh on the layout flower, but it is easier to show you the tutorial with using a strip of ribbon I had from my stash. There seems like a lot of steps to this, but it's actually pretty fast moving and easy to do. You can choose a die of your chose as long as the petals are wide. I used a die I had on hand, but this can also work with the six point flower from the Tim Holtz tattered flower die. Here's what you will need:
Large and Small Flowers Similar to The Ones in the Pic

Approx 2 Feet of Ribbon (Sizes vary with flower sizes so this should give you plenty to work with)

Exacto Knife

Adhesive

Ink, Stickles, Centerpiece Decoration
See, this blogger used what she had on hand too. We can do this!
It comes together pretty nicely and when you do one the rest are simple.
To see all the pictures and grab all the directions, go here. Click here.
Great for Mother's Day, Spring, Summer, change the colors out for Fall or Christmas. Wedding pages would be good, you can turn these into a bouquet. Lot's of ways to use this.
Happy embellishing!
Team Scrapbooking Daily
Photo source:For scrapping out loud
Resource:For scrapping out loud