Open up your computer and get going on this beautiful zoo layout.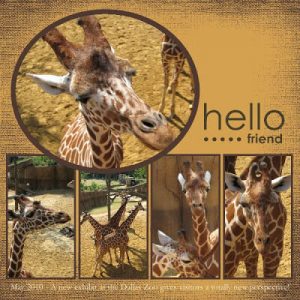 Love the earthy colors and the numerous photos. You can almost reach over and pet them on the head. Maybe they would like a treat?
You could also do a panoramic collage of photos at the bottom which would look awesome.
To see the other photos and get the directions that are available, go here.
Grab everything by clicking here!
Be inspired and start creating your own layouts.
Happy Scrapping!
Team Scrapbooking Daily
Photo and resources: Blink think ink