Grab a punch and make these in no time at all.
Here's another fast and easy card that you can make in two shakes of a monkey's tail (my mom used to say that…don't know where she got the monkey but, you don't ask that kind of thing as a kid).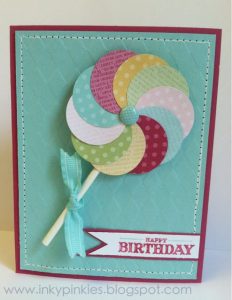 Match the punch size to the size of your card. That's probably the hardest part of this whole thing.
Here's some of the directions:
The pops are easy to make, just punch 10 circles, fan them out and glue to a circle in the back. An In-Color brad in the center. Finish with a lollipop stick & a knot of ribbon
Terribly difficult, but we have faith in your abilities 🙂
Add these to your card stash. It should be filling up quite nicely. Beats paying $5.75 a card at the store. And all that time standing there trying to find something you like or think is cute or is good enough or whatever.
Of course, we wouldn't want to deprive you of standing there reading all those cards when you should be scrapping.
Happy Card Making (or reading as the case may be)
Team Scrapbooking Daily
We wish to welcome you to Munchkin Land ( If you join the Lollipop Guild)
Photo source:Inky Pinkies
Resource:Inky Pinkies  click here to see all the directions and other photos