Hit the craft store and pick up some blocks for this easy collage project.
Turn your pictures and specialty scrap papers into a photo collage.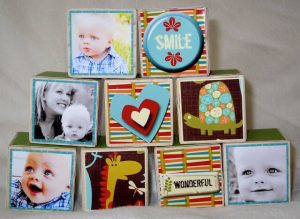 The blocks shown here have digital images that were glued on. But you can easily use any embellishments and paper you have to make this one-of-kind display.
How about giving a set to a new mom? Or making sets of these for Halloween, Christmas or Easter. It costs quite a bit to buy these types of blocks ready made. You could also make a "picture" on the back side of the blocks so you can turn them over and have two different displays.
A little paint, photos, paper and glue and you have a unique collage for your home. Don't be surprised if people start asking you to make one for them. Hey, we warned you!
Happy Scrapping!
Team Scrapbooking Daily
Photo source: DCWY Blog
Resource: DCWY Blog
Go here for a list of materials used and the directional and lots more photos. Click here!