Shake up a little with this shaker card.
Get your pool goggles on and dive right in to this card. Fun fish, "bubbles" and little shaker elements make for a fun project.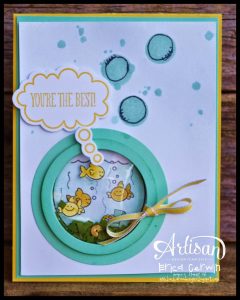 You could even make this for one of your scrapbook pages, just be sure to be extra nice to it so your fish and bubbles don't escape.
The stamp is a single stamp called Fishin' Around. I actually stamped it twice and cut the fish out of the second one and attached them to the front of the cello bag so it would appear more "3D." The gold sequins are supposed to be from the little treasure chest… which is covered up mostly by the shakers…. oh well… at least I get it! Ha! I used my Fringe Scissors (LOVE) to make the little grass shakers.
So check out the directions to make this card here: click here.
Happy Shaking!
Team Scrapbooking Daily
Photo Source: Pink Buckaroo Designs
Resource: Pink Buckaroo Designs