Take some scrapbook paper, a little time and make your own cool signs.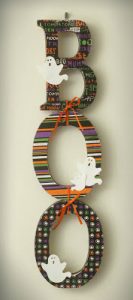 These were made with wooden letters, but you could also use paper mache letters which would be a lot lighter. Â I've seen them at Michael's craft stores in different sizes. If you use the paper letters you could make a bigger sign with more letters.
This could also be used for Christmas which is coming up pretty soon.
The embellishments could be those self sticky foam cut outs or the pre-painted wood shapes, or you could cut them out of paper or use stickers. It's pretty much up to you. Raid your stash first and see what you've got.
Have fun with this one!
Happy Papering!
Team Scrapbooking Daily
Photo source: Then she made
Resource: Then she made
Go here to get the list of materials used and the directions.
It really is a very easy project to do.