Use a few punches to make an adorable Eeyore!
Did you go to the Happiest Place on Earth this summer? Planning to take off and see the Halloween Party, or spend some time during Winter break and enjoy all the beautiful decorations ( it's worth it to go just for that).
If so, you need to check out these cute punched characters.
Eeyore, Donald Duck, Tigger and Rabbit make the line up here.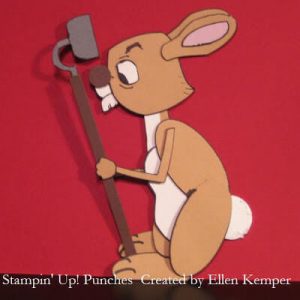 To make Eeyore above use the following punches:
1.75 circle plus a wide oval
large oval
cross hatch or plus sign looking punch
1 3/8 circle
small heart punch
standard hole punch
small oval
Be sure to go here to find out the exact directions on how to assemble and trim the punches to make this cutie. Go here…Click here.
You can also learn how to make the other characters as well.
Have fun decoration your pages!
Happy Punching!
Team Scrapbooking Daily