Take a peek inside this beautiful craft room.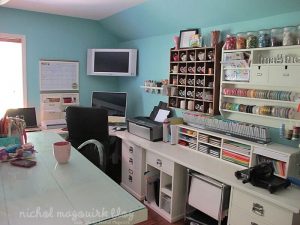 This is a gorgeously beautiful room. Nice layout and everything handy to grab and easy to spot. Sometimes "out-of-site" really is "out-of-mind" and we end buying more of the same things we had before only to find them in 2 weeks and say, "I knew I had that somewhere".
Then we proceed to put it back where it was and promptly forget about it again. And then we go and buy the same thing only to find it…… Â You get the picture (like a re-run of "Ground Hog Day" 🙂
So, let's make a pact together. I solemnly swear, to take these room organizations ideas and do something with the stuff I have to make it more usable and pretty.
Now show us your rooms and stuff. No, you first.
Happy Organizing!
Team Scrapbooking Daily