(SIDE NOTE: Make sure you scroll to the end to download your FREE PRINTABLE!)
It's the 4th of July! 
Time to celebrate by dressing up the cat…
(He just LOVED when I do this 🙂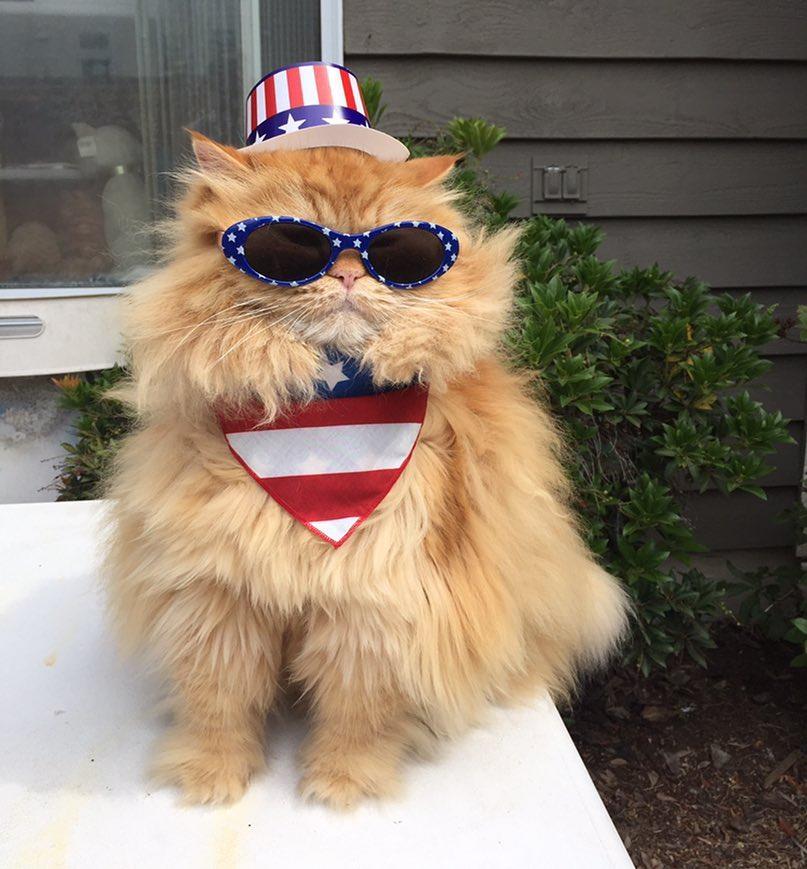 Oh, and make a scrap page about it! (of course 🙂

Side Note: Make sure you read through to the end so you can grab your FREE PRINTABLE sentiment (my gift to you 🙂

If you're ready, I'm ready! Let's get this crop party started!
(I even did some of the hard-lifting-legwork of hours & hours scrolling Instagram to find pages I loved… I know, the sacrifice is immense on my part)
So without further ado, let me present these star-studded, red, white and blue…
Eleven Stunning Scrap Page Inspirations for Independence Day:
4th of July – Scrapbook Page 1)
Focus on the Family
Some days I don't want to have to layer all these photos on top of each other (I admit it, I try to cram in a TON of photos on most my pages), which is why I loved the single-photo-focus of this page so much! PLUS: You could do an easy copy of this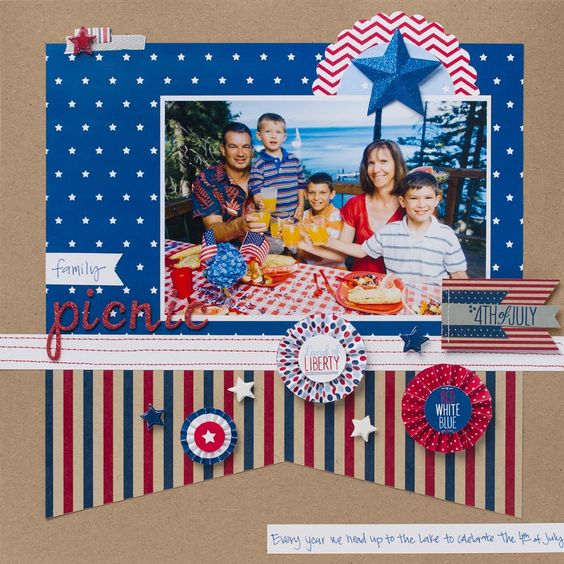 ---
4th of July – Scrapbook Page 2)
Arranged to Please
I LOVE how easy this page is to [**ahem**] steal. It's a solid background paper (which I have TONS of) with stickers and well-arranged photos that make this layout work!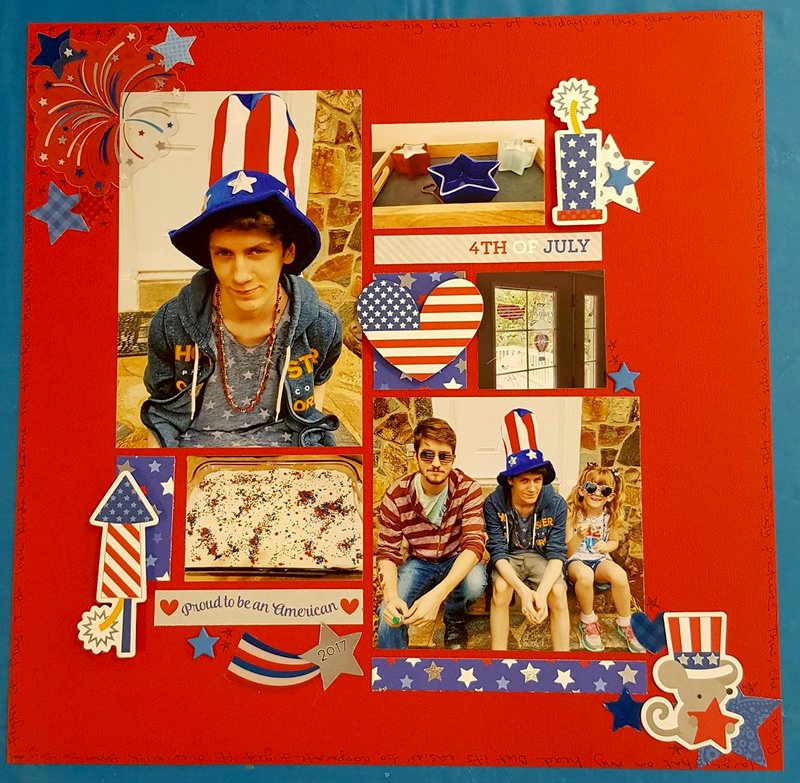 ---
4th of July – Scrapbook Page 3) Americana 
Okay, I'm a total sucker for anything Americana themed 🙂 And this two-page layout gets its punch from the gorgeous background papers. Time to break into the good stash for this!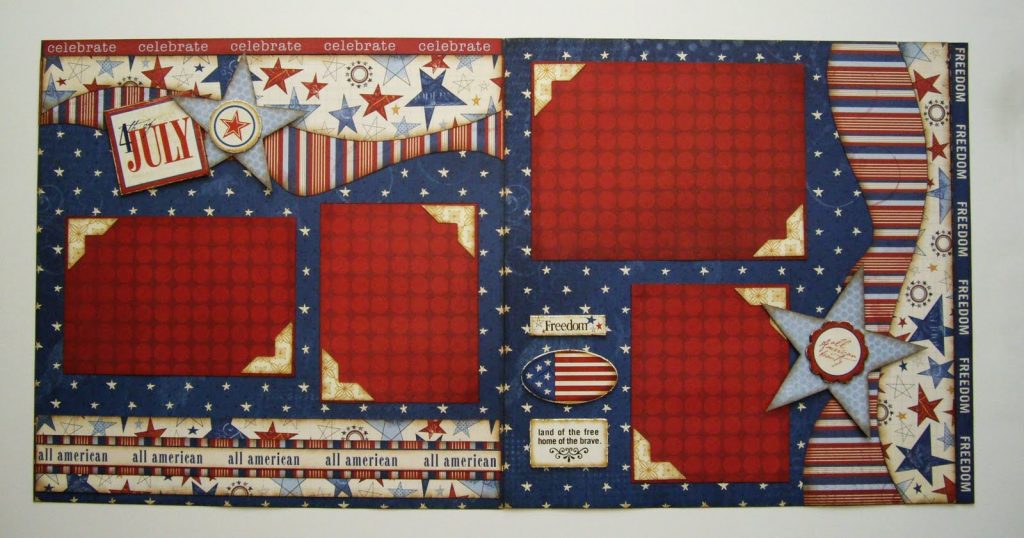 ---
4th of July – Scrapbook Page 4) Fun and Bright
Don't have any paper that screams "4th of July"??? no Problem! just go with any blue-tone, layer it with a well-placed "USA" embellishment (hello, Cricut) and there will be no doubt what theme your page has!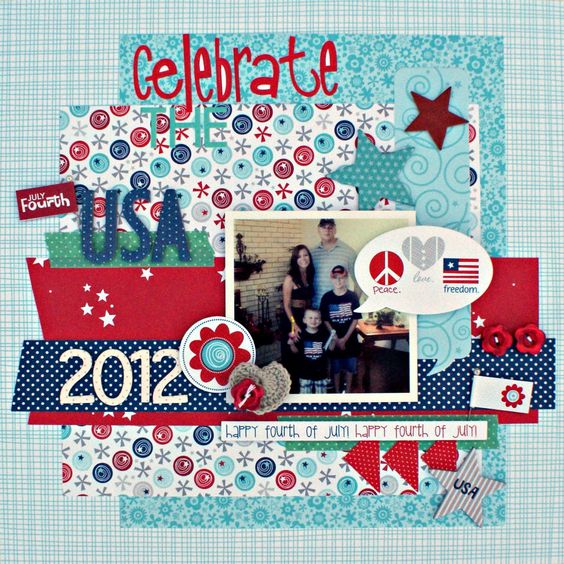 ---
4th of July – Scrapbook Page 5) Shabby-Chic
Ready for an antiqued look that will stun everyone? Then copy the layout off of this page using whatever sepia-toned paper you have in your stash 🙂
---
4th of July – Scrapbook Page 6) We're all Color-Coordinated
One of the elements that really makes this page work is that the three photos are in the same color family as the paper (so, you know, everything just goes together 🙂 While it might take a little extra effort to match paper to photos, it means that you end up with a page that practicality brings itself together!
---
4th of July – Scrapbook Page 7) Layer-Cake
… or should I say, layer-page??? (My mind was on cake, sorry) This page makes a statement with its layers on layers of paper and embellishments. Let your heart flutter away!
---
4th of July – Scrapbook Page 8) Wear White After Labor Day?
You don't need tons of color to create a bright and happy page! (Plus, who doesn't have a whole bunch of white-tones background papers that we need to use up?)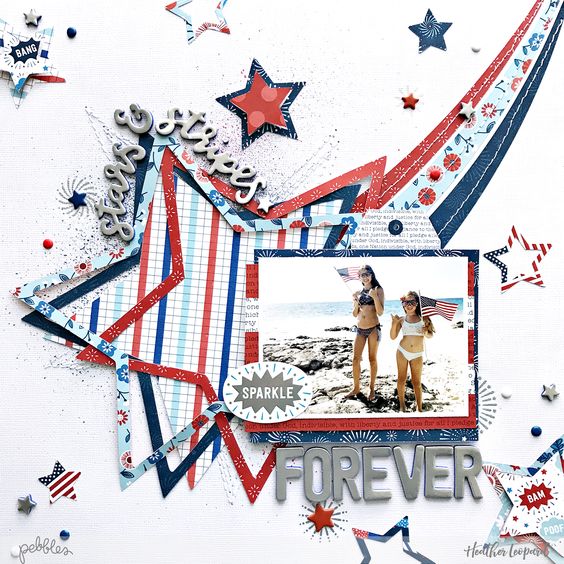 ---
4th of July – Scrapbook Page 9) Let the Flags Wave
DIY your own embellishments by cutting these cut pendant flags as a backdrop for your photos. Add a few buttons, a paper pinwheel, and your layout is complete!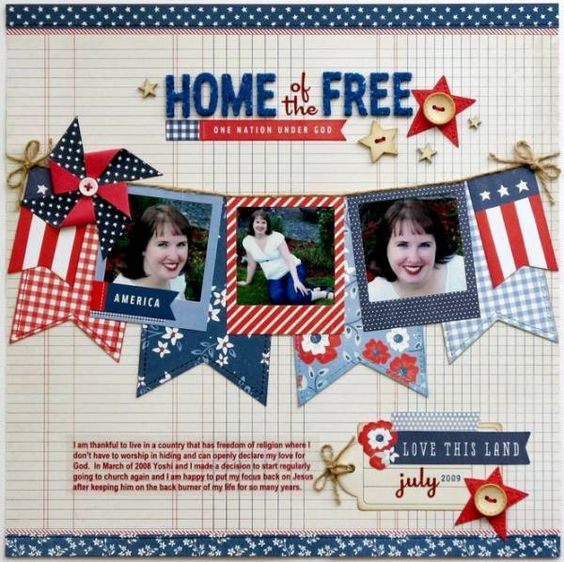 4th of July – Scrapbook Page 10) From America with Love
Have a giant great for the good, old USA with this beautiful page layout! Simply print a large heart (or make one yourself using the old-school fold-paper-in-half-and-cut method from childhood) and then arrange your photos/ papers inside the heart shape. Add a few embellishments and — BOOM — your layout is complete!
---
4th of July – Scrapbook Page 11) Let the Paper Do the Heavy Lifting
This two-page layout is ALL ABOUT the beautiful paper. Go for bold, saturated blues and reds to make your photos pop off the page! Then, all you need is a light hand with a few well-placed embellishments to make your layout complete 🙂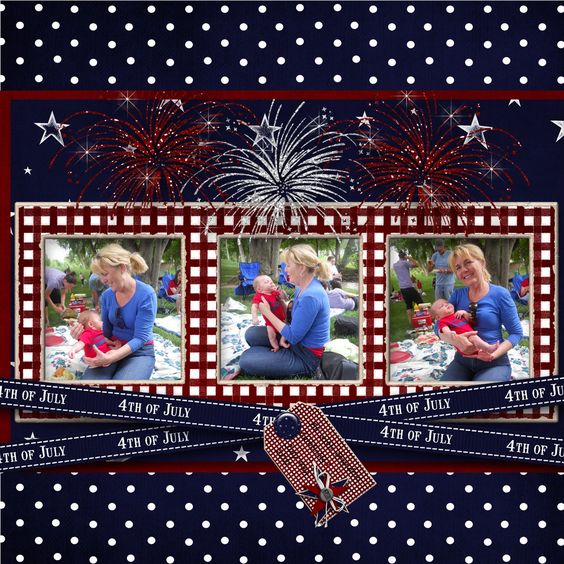 Oh, yes! Don't forget to pick up your FREE PRINTABLE featuring sentiments to use on all these pages you're about to make 🙂
Here's the link to grab it:
https://scrapbookingdaily.com/wp-content/uploads/2019/06/Happy-4th-of-July-FREE-SENT-PRINTABLE-1.png
Hope these pages inspire you to get into your craft room and start creating! (Some days, I swear its the only thing that keeps me sane 🙂
Hugs, love & Happy 4th of July!
Kathy
PS. Have you heard about the digi-stamp group we've started called Mad Stamper Society???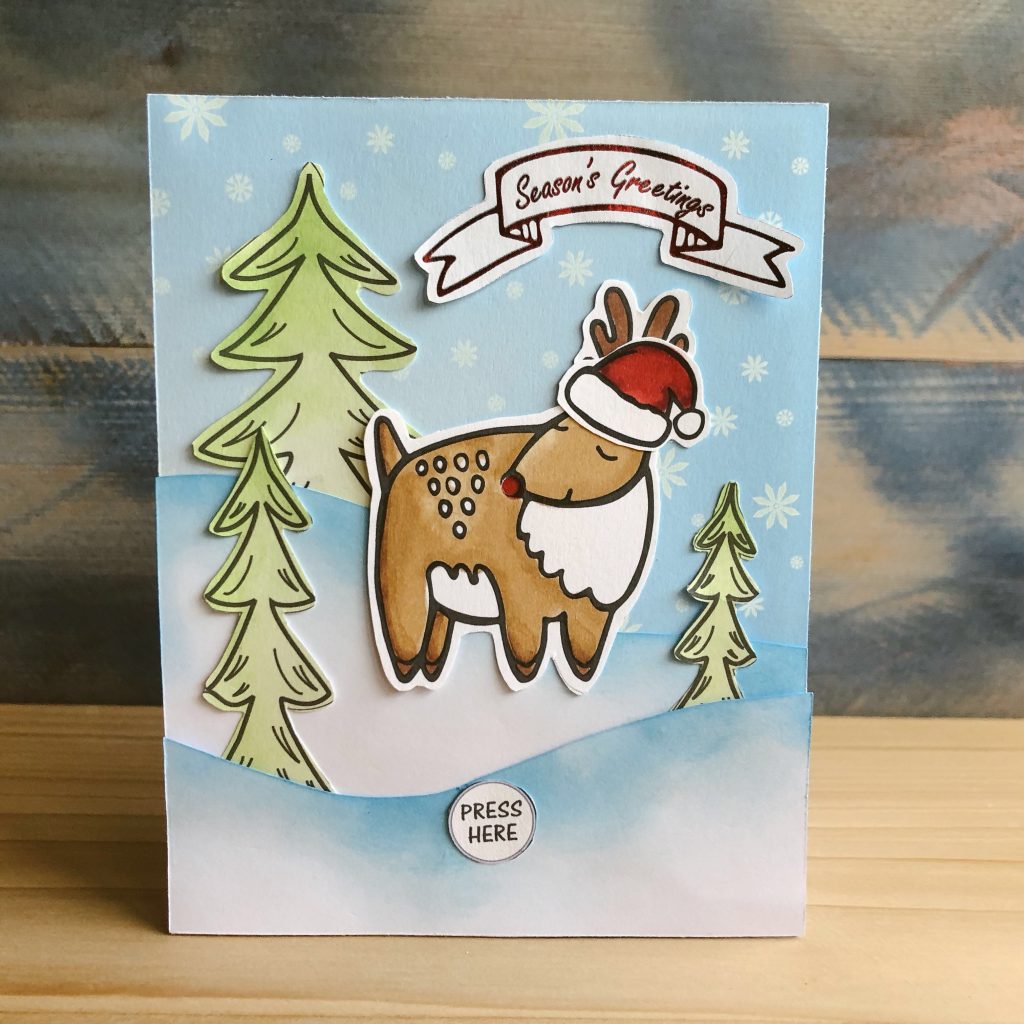 We're running a great discount this month, so be sure to check it out here!
https://madstampersociety.com/vsl
… and make sure you don't miss the next card we have going!
(Right now, we're celebrating Christmas in July! (SEE CARD PHOTO BELOW) PLUS: this card has an LED light that glows red for his nose… too cute, I know 🙂