Use buttons to create a 30 minute Fall Card.
For all of you who complain that you don't have enough time to get your projects done, here's one that can be completed in less time than it takes to talk about it.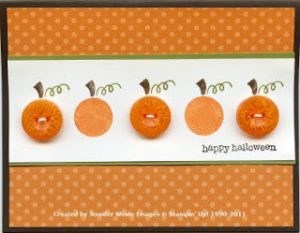 Dig through your stash of buttons and pull out orange ones or black ones or purple ones or white ones. Any of these colors would work to make pumpkins. Instead of stamping some of them (if you don't have a small pumpkin stamp) just use more buttons and march them clear across the card.
No reason to go to the craft store if you don't need to ( oh wait…. scratch that… there's always a reason to go to the craft store…forget we said that….what were we thinking!).
Use a green marker pen to make the little vine tendril and a brown one for the stem. Yes, you're handy enough to do this free handed.
Now grab some of your paper stash and get going.
For a list of items used to make this card, go here. Click here.
Happy Buttoning!
Team Scrapbooking Daily
Photo Source: Sunflower Stamper
Resource: Sunflower Stamper