Make Your Own Ink Pad Holder is the coolest ever.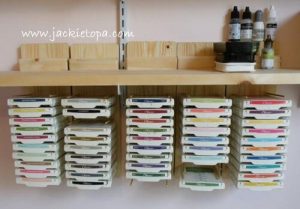 This is an awesome way to store your ink pads. It even has room at the top for the re-inkers and a few supplies.
Each one is made individually, so you can add as many as you need and it can expand as your collection of ink pads gets larger. You could also adjust the size and height of the holders to accomodate the size of ink pads you have.
So, one could be made for the ink pads shown and the next one could be for ink pads that are thicker or longer.
Pretty cool idea.
Be sure to check out the extra photos here and see how this is put together. Click here.
If you're handy with tools or know someone who is, this would make an amazing gift ( for you too).
Happy Scrapping!
Team Scrapbooking  Daily
Photo source:Addicted To Stamping
Resource:Addicted To Stamping