Make your own pressed flowers for pages.
Go outside and take a peek at all the beautiful flowers around you. Gather up a basket, some pruning shears and a hat. Spend a little time outside gathering flowers to be used in your next scrap book or card project.
Be sure to ask the neighbors if you can preserve one some of their blossoms for your memory book.
You could even make a scrapbook just about the flowers you find on your walks. Make it a year long journal on the changing seasons and the blossoms you see at different times of the year.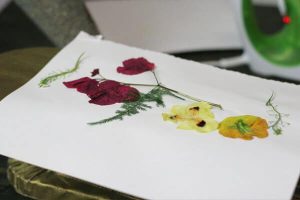 How to Press Flowers Perfectly

Tutorial and Instructions
For the best results, choose flowers that are naturally flat like daisies, pansies, violas, sunflowers, chrysanthemums, tulips and ferns. Bulky flowers like roses are harder to get completely paper flat.

Choose perfect flowers, no holes or discoloration – we only want the best!

Pressed flowers are extremely fragile.  Handle with care!

Use makeup oil blotting paper to help soak up water, insert a sheet on top of your flowers before you press to get the best results.

Let your flowers have their space! When laying out flowers make sure they are not over lapping each other in the press, or else you will get one glob of petals. Okay, that's about it for my pressing power tips, read below for how to flatten some flowers.
You'll also find instructions on making your own flower press and 3 ways to press flowers including this on using waxed paper.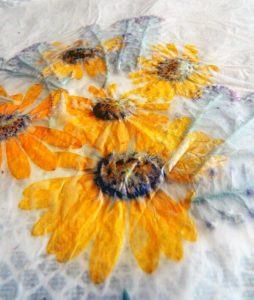 Gorgeous isn't it? This would make a beautiful card.
Be sure to read all the directions for these. Go here.Click here!
Happy pressing!
Team Scrapbooking Daily