You can make these cute strawberries with only 2 punches.
Open up that punch draw. Pull out a heart shaped punch and a flower shaped one. Then reach into your crafty drawer( you have one right?). After rummaging around ( I know you do, so do I) grab that little bottle of puff paint.
Hopefully, it's not all dried up. If it is, a run to the craft store is in order. Get going!
Once you come back, sit down and get punching.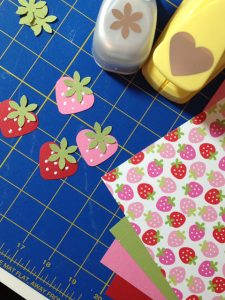 Aren't these just too cute!
To grab the directions for these little beauties go here. Click Here!
Perfect for a summer page layout. Or you could include them in a recipe scrap book you're doing. Or decorate little note cards and invite everyone over for strawberry tarts with cream.
Sounds delish! Make sure to send one my way 🙂
Happy punching!
Team Scrapbooking Daily
Photo source: Paper Turtle
Resource: Paper Turtle