Light the way to your front door with these fun Halloween jars.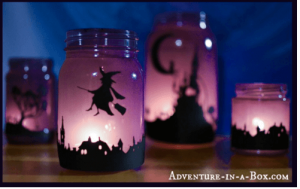 All you need are a few supplies and a little time to make these "spooky" jars.
Place them on a table by your front door or line a window sill with them. Set them on bails of straw of hay. Insert inexpensive electric tea lights that flicker to create your own Halloween Magic.
Here is the material list for the project:
Materials
– jars of different sizes and shapes
– a can of purple spray paint (I used Krylon Purple Aerosol Paint
)
– paint marker (I used Uchida Deco Color Fine Point Paint Marker
)
This is very simple to do. Spray the jars, place the pattern inside the jar, trace with the paint marker, let dry, add tea light, done.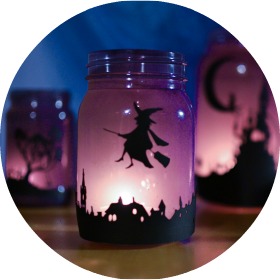 You can grab the jar designs here for free! Click here.
Happy Halloween!
Team Scrapbooking Daily
Photo source:Adventure in  a box
Resource: Adventure in a box