Make this fall pumpkin card in 10 minutes.
Using simple stamping techniques, you can have this card finished in ten minutes tops.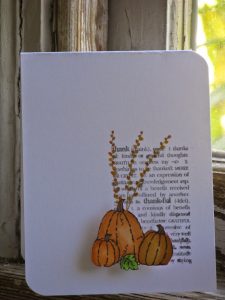 Pull together all your supplies:
Pumpkin stamps: preferable three sizes
Background word stamp
Inks: 2 different oranges, one gold and black
Pigment pen: brown or black
Glitter pens in orange, gold and brown
Glue dots for the pumpkins
Stamp the pumpkins and cut out. Stamp the background word in the lower right hand side of the card. Place glue dots on the backs of the pumpkins and position over the corner of the background stamp as shown.
Use your pigment pen and draw stems going up behind the pumpkins. Randomly add glitter dots on either side of stem as you go up, alternating the colors as shown.
That's it! Mission accomplished.
You could always add a little more sparkle to this by glittering the left edges of each of the pumpkins before attaching them to the card. Â it's entirely up to you.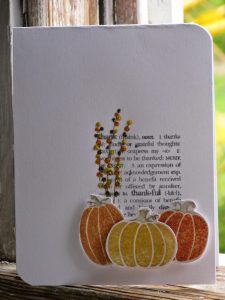 Two different stamp sets, same card idea.
Happy Stamping!
Team Scrapbooking Daily
Photo Source: The Creative Studio
Resource: The Creative Studio