You have everything you need to give your rooms added pizzazz.
Forget about going to the big box home supply store and spending lots of bucks to replace your blah looking switch plate covers.
Head into your scrap room. Pull out lots of cool papers in your stash. Walk around your rooms and start matching up papers with colors you have. You can even hold it up to the wall and see if you like them. The big box stores don't have anything on you!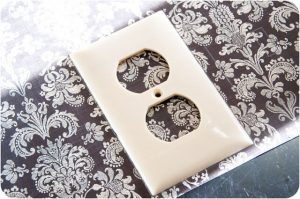 Make sure you have a few extra supplies. One by one remove the switch plates, cover and put back up. You have now transformed the look of your room very easily and so inexpensively. Way to go!
Here is the list of products you need:
My outlet and switch plates were the lovely (ugly) dirty cream look.  They aren't expensive to replace when you're replacing 1 or 2 but when we have half a house of them to replace it adds up.  This was the perfect way to use what I already had.
Transformed!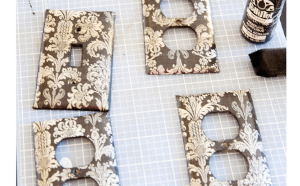 So simple but so stunning!
Happy decorating!
Team Scrapbooking Daily
Photo resource:Housewives of Riverton
Resource:Housewives of Riverton