Bonus ways to use tools you already have.
Step into any scrappers creative room and you will see lots of tools. It's make the process more fun and enjoyable. Hey, we don't wash clothes on a rock anymore do we?
And it's always exciting to be able to use our tools for more than we thought possible.
Enter the humble edge punch. An unassuming little thing, it makes fun designs on the edges of paper and cards.
Here are a couple of ways to make it the star attraction.
Punch multiple colors of card stock, trim and adhere to a card (as shown here) or to a scrapbook page.
Loving these fall colors!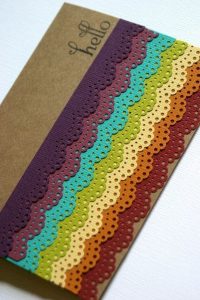 Turn it into wall art! Punch your cardstock or a manilla envelope. Lay it out on your art piece. Using ink and a pounce brush, carefully stencil the edges. Lace edging in about 3 minutes.
To see how to stencil the edges go here. Click here!
Or use your punched paper edges and adhere to a birdhouse for  a little shabby chic.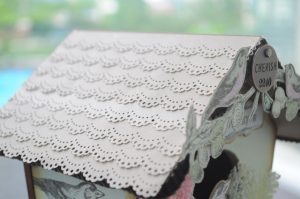 Now go grab those punches and get busy.
Make sure to share what you have done. We might want to make one too.
Happy punching!
Team Scrapbooking Daily
Resource: Nick of time
Photo source: Nick of time