Two great projects that any "fish-aholic" would love to get.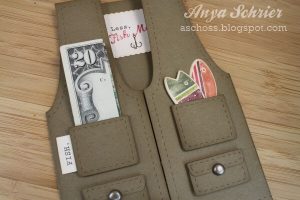 This card would be perfect for birthdays or Father's day or a just-because day. We need more of those. Kind of like Alice in Wonderland's Un-Birthday's.
We need to start celebrating Un-Birthday's on a more regular basis. Anybody with me?
You could also tuck in a gift card on the inside if you didn't want to use real green backs for this. A fishing net peeking out of the packet where the money is would be really cute.
The second project is a framed art piece made with the fishing lures colored in a bunch of different hues. This is a great idea and one you could do with whatever stamps you have hanging around.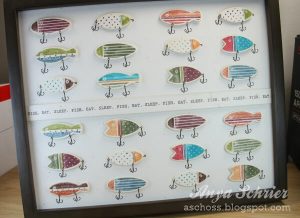 To see the rest of the pictures for these projects, go here. Click here!
Happy Stamping!
Team Scrapbooking Daily
P.S. Â click this link for the cutting files for the fishing vest. Get it here!
Photo source: Aschoss.blogspot
Resource:Â Aschoss.blogspot