Make this mini heart album with simple supplies and no fancy equipment needed.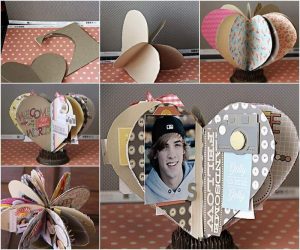 Grab scissors, kraft colored cardstock, and whatever embellishments and photos you want.
You can even make this stand up using a "frog" (florists use these all the time to get flowers to stand up tall). You should be able to find them at craft stores or florists shops.
It never occurred to me to use a "frog" for this. Thank for the brilliant idea!
For step by step photos on how to make this and gobs of finished pictures, go here.
Happy Scrapping!
Team Scrapbooking Daily
Photos and resource: American Crafts and Creative ideas