Grab some pencils and start dabbing.
This project features a tote bag that was "stamped" with paint using the eraser ends of a pencil.
You could take that same idea and stamp your scrapbook paper using ink pads instead of paint. Â Just replace the word ink pad with paint and you're good to go.
Dip the eraser into to the paint and start on the edge of the heart, pressing the pencil eraser straight down on the tote bag. Continue making several prints with the eraser, going further away from the heart and pressing harder until you are out of paint. Repeat this step and go all the way around the heart.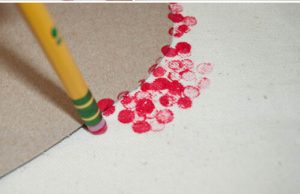 Photo courtesy of Clumsy Crafter
Use shapes that you will cut your photos with, so most of them will be small. You will end up with a collage of color by the time you're done. Pick complementary colors or just go with one. Have fun with it.
Go here to read the full instructions and see the cute tote bag they made. Click here!
Happy dabbing!
Team Scrapbooking Daily