Use up your scraps and make this pumpkin tree.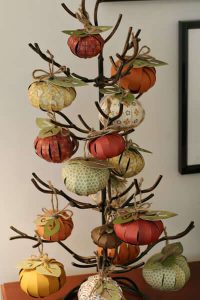 Fall is coming and with it Halloween and Thanksgiving. While both holidays are fun and have great decorations for each, it's nice to be able to make something that will last all fall and not have to be taken down in a month.
This cute pumpkin tree fills the bill. Make a bunch and attatch them to any small tree you have right now. Or start searching yard sales, rummage sales or antique shops and find one that you can use for this.
All you need are strips of paper, paper for leaves,twine, and brads to hold the whole thing together.
Just cut the strips, make the leaves, attach with brads and add some twine to hang them up.
Go here for the full directions and more photos. Click here.
These would also be cute in a bowl with some pine cones or greenery.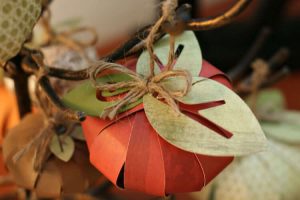 Let your imagination have fun with these.
Happy Scrapping!
Team Scrapbooking Daily
Photo Source: Simply Gwen.blogspot
Resource: Simply Gwen. blogspot