Use this as a template and make the cutest fall treat containers.
Pulled into the drive thru lately and ordered french fries? Don't throw that box away! Save it for a template to make your own cute treat box (or ask them for a clean one…they might give you one).
Use whatever cardstock you have handy for the box. Score the lines like the ones for the real one. Stamp an image all over the box. Then fold and glue together.
Put your treats in a clear or colored treat bag and add crinkled paper if you want.
Tie the top together with yarn, ribbon, twine, whatever you happen to have handy. Then make the tag.
Punch out a tag from your die cuts or buy tags from the office supply store. Stamp your image on and your saying. Then stamp another image on a separate piece of paper. Cut out and adhere to the tag with foam dots so it stands out.
I would ink the edges of the tag to give it a little more character.
Done!
Very cute and quick.
Happy Trick or Treat!
Team Scrapbooking Daily
If you need a scoring board and bone folder check this one out on Amazon: click here.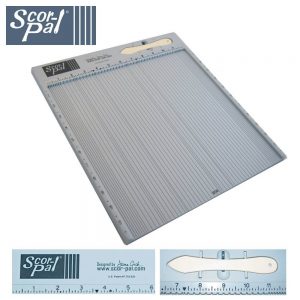 Photo resource: Stampin Up