Have old dusty books just sitting around? Re-purpose them into a fall decoration this year.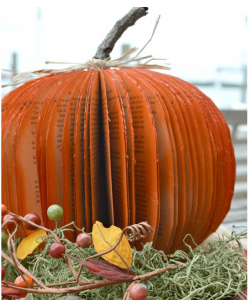 We all have them. Old dusty books that no one reads, that no one will take home with them, that everyone has pawned off on you because they don't want to look at them anymore.
The spines are broken and torn, the pages are water stained and ripped out. What do you do with them?
Don't get rid of them! Re-purpose them into a pumpkin decoration for fall.
With some scissors, glue, ink or paint and a little patience they can have new life again. And we all want that don't we?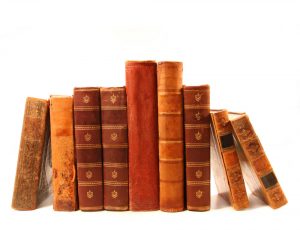 Here are the directions for making these:
In a few easy steps you can make a DIY book pumpkin too.  First you'll remove the cover.  Start with a small section of pages and cut along the top and bottom like the center picture below.  When all the pages are cut, fold the spine in half and hot glue it the ends together.

Your book pumpkin will stand up now.   Trim any pages that don't have enough of a   "pumpkinish" shape:)

The most time-consuming part is putting a dab of glue in between each page to help keep the pages separated.  It's worth the time!
Now the pumpkins featured here have been painted. You could also use inks and sponge daubers to give your pumpkin more depth of color and shading. But if you don't have time for that, just paint them!
Get started making a bunch of these for your home right now.
For more directions and photos go here. Click here.
Happy Re-Purposing!
Team Scrapbooking Daily
Photo Source: H2O Bungalow
Resource: H2O Bungalow