Meme fan? Save them to remember later.
You see them everyday on Facebook and Pintrest and just about everywhere.
Those cute adorable memes. Or the funny memes. Or the minion memes (love those). Or the in-your-face memes, or the …… (you name it here) memes.
Instead of just chuckling or nodding sagely as you read them and then move on, make a journal for storing the best of the best so you can use them later.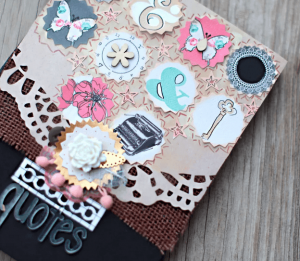 This journal contains your memes and quotes very nicely. Covered in chalkboard paint and loaded with embellishments you'll have fun making this and filling it up. You might even need two.
Here's a few directions to get you started:
1. Start by covering a simple journal with chalkboard paint. It takes a couple of coats of the paint to achieve full coverage, but the texture it adds to the front of the book is worth it…..

3. To the journal front, add some burlap and a kraft paper doily. Once the glue dried, flip the book over and cut off the excess using the Teresa Collins Mixed Media Scissors. These scissors cut through burlap very easily.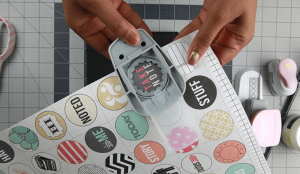 Adding punched embellishments.
To see more photos and the rest of the directions, go here. Click here.
Go get started. Remember, check your supplies and if you are missing anything for any reason, get yourself over to the craft store. We might see you there.
Happy scrapping!
Team Scrapbooking Daily
Photo Source:Fiskars
Resource:Fiskars