Amazing "wall of punches".
Take a a peek at how this gal organizes her massive collection of punches.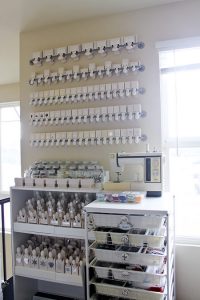 These are added onto the wall in a very easy way.
These are some of my Martha Stewart punches that I've collected over the years. I have more, but the wall space above the bookcase ran out! In case you are wondering, the punches are hanging on Bygel rails from Ikea.

So, that did get SOME of the punches out of the bookcase and onto the wall, however, there's still a couple of shelves of punches left
Too smart. This is just an awesome way to have your punches right there so you can see what you have and be able to use them more often.
Too awesome!
Go check out the rest of the pics and inspiration for your own "wall of punches" here!
Happy Scrapping!
Team Scrapbooking Daily