A collection of 10 fun scrapbook layouts not to be missed.
Running out of inspiration? Check out some of the layouts found on Paper Clipping.
1. Crop the photos down into smaller, irregular random sizes.

I cropped my photos digitally and I didn't plan my page out ahead of time. This page works because all the pictures are randomly sized — as opposed to just some of them — and they're laid out haphazardly. The randomness of all of the items, including their placement, gives unity to the quirkiness and tells a playful story.
And another fun page layout: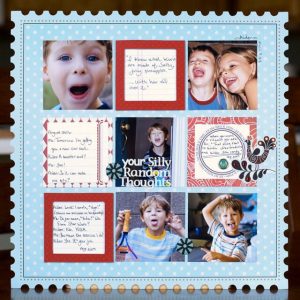 9. Form a 9-square grid.

Crop your photos into 3×3 squares. Lay them out into a grid and use the remaining spaces as places for journaling or embellishment
We really like the way the background paper has been cut to look like a postage stamp. Such a clever idea to make it stand out even more.
Go here and check out the other 8 page layouts. Click here!
Get into your scrap room and let the paper fly!
Happy Scrapping!
Team Scrapbooking Daily
Photo Source: Paper Clipping
Resource: Paper Clipping