Think outside the box with your scrapbook templates.
Every one has seen scrapbook templates. Easy to follow and quick to use, templates are a great time saver.
But have you ever thought about using it in different ways?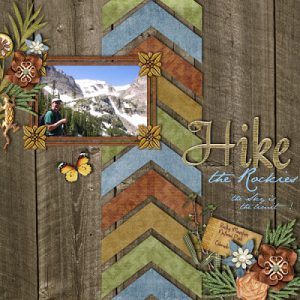 The original template was at a different angle with the "arrows" going in a horizontal position.
I rotated the template 90 degrees counter clockwise and got a whole different look.  Now use your imagination for a moment, don't those arrow shapes remind you of tire tracks from an off road vehicle.   This page was created using two coordinating kits from Sherwood Studio, they are Colorado Springtime andColorado Springtime in the Canyon.  Living in Colorado and loving the outdoors I couldn't resist these two.  Here is the sketch of my page.
If you like this layout and want to see the other layout for this template, go here. Click Here!
You can also download this template on their page.
Go here to download the template.
Happy Scrapping!
Team Scrapbooking Daily
Photo source:Ideas for Scrapbookers
Resource: Ideas for Scrapbookers