Crazy "exploding box" for photos.
This is too cool!
Make your own "exploding box" of pictures to commemorate a special occasion or all the vacations you took that year, or the entire school year. You could make every school year in a box. That would be a lot of boxes.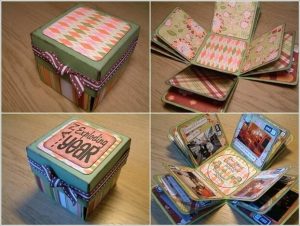 Photo courtesy of Amazing Interior Design.
Here's a little info from Amazing Interior Design:
We all love to click photos. Though these days not much photographs are in hard copy but we cannot deny the pleasure that they give when we see the developed form. So how about saving all your photographs in a unique way like this exploding box? To make this cut 3 square pieces of cardstock in three sizes of 9 x 9″, 8 5/8 x 8 5/8″ and 8 ¼ x 8 ¼ ".
To grab all the directions for this box, go here. Click here!
This is just way too cool to pass up. Â Go for it!
Happy scrapping!
Team Scrapbooking Daily