Alter some paper clips with this easy technique.
Dig around inside your junk draw and grab some of those paper clips that are just taking up space.
Then, poke around in your stash of stuff and make these decorative altered paper clips. You could use these to  hold photos, memorabilia, attach to cards, as a bookmark, or stick in your hair (maybe :).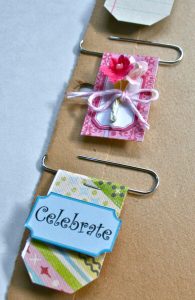 Have fun with these. Snap a pic of the ones you make and share please!
We all need some inspiration here.
Happy Scrappy Days
Team Scrapbooking Daily
Photo source:Vintage Street Market
Article source:Vintage Street Market