These are inexpensive treat bags to make for your next party.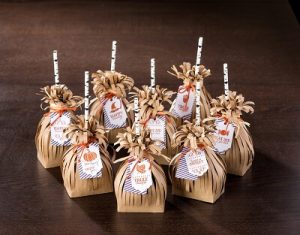 Fill with popcorn balls, candy apples, chocolate candy, caramel corn or anything else you decide to make or buy.
The trick is in cutting the paper bag just right so it looks like a witches broom but you don't destroy the bottom part and not make it stay together in one piece ( ask me how I know this!).
The picture uses fancy colored straws for the "broom handle" while the video uses a large pretzel rod.
More food sounds good to me. You could even make it a chocolate covered pretzel, slip it into it's own plastic sleeve and add that as part of the gift. Â Every one will be so disappointed to get one, so you can send them all in my direction 🙂
Happy Trick or Treat!
Team Scrapbooking Daily
Photo resource: Stampin Up
Product and video source: Stamp with Tami