Be able to find anything you have in a flash with this system.
Trying to keep your stamps and dies together? Can't find the ones you want? Has the cat batted them across the room and now they've scooted under the table? Bending down to retrieve things is a pain.
You need to get organized 🙂
Fortunately for you, this video shows you how.
The big boy of this system are these clear plastic storage containers. All the pockets fit in here and make it easy for you to find stuff.
So this is my "Stay Organized Container." In it I have what I need to organize my stamps, dies, etc. Yes, it took me some time to prepare this container. But – oh my – it saves me a ton of time in the long run. Whenever I get a new product in the mail, I immediately reach for this container. SO much faster… leaving more time for me to create!
See, there is a reason for being organized 🙂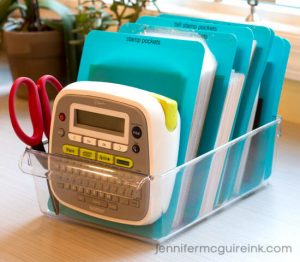 You can take a peek at them over here. Click here!
Now you can march into the "scary room" and take command. We're right behind you!
Happy organizing!
Team Scrapbooking Daily
Photo source: Jennifer Mcguire Ink
Resource:Jennifer Mcguire Ink