Make your own Wedding Keepsake Album with these tips.
Grab a cup of coffee or tea and be prepared to be dazzled.
This beautiful Keepsake Mini Album uses a 12×12 paper stack. Pick one that appeals to you for this project.
Just look at all the pockets and small spaces for keepsakes and photos.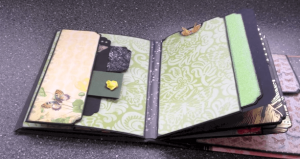 Photo courtesy of: Image of the Creator
This would make a fantastic Wedding keepsake Album for someone special. Or for a new little baby in your life or someone else's.
If you do make one of these, send us some photos. We want to ohh and ahh.
Happy Scrapping!
Team Scrapbooking Daily