Document the many houses you have lived in and loved.
Do you travel around a lot? Have you decorated and loved numerous homes or apartments or condos over the years? Have your children played and grown up in places all over?
If so, why not document all the different places you have lived, the special things about each house and what you liked and loved about the city or town you were in?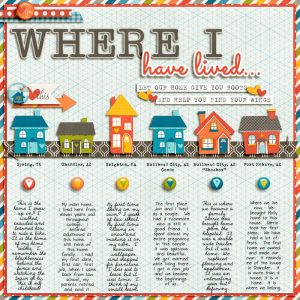 This layout page could be the first page in a scrapbook dedicated to the places you have lived. You could then divide the book up by each place, putting in dividers and scrapping about the friends you made, places you visited there, food you enjoyed, hobbies and activities you participated in.
Talk about a cool way for you and your family to remember where you've been and the fun you had.
So, use this as a jumping off point to get started on your own "Places I have Lived" Scrapbook.
Happy Scrapping!
Team Scrapbooking Daily
Photo Source:Sweet shoppe Community 
Resources:Sweet Shoppe Designs